"Mothers hold their children's hands for a short while, but their hearts forever."
From caring for us when we're sick, to constantly worrying about us even when we're not, Moms are certainly full of love. If you're wondering how you can show your mom just how much you care, you may want to consider bringing her, or any other special lady in your life, to Downtown Barrie for a special and unique Mother's Day Celebration.
Start your day in Downtown Barrie by grabbing a coffee at one of the great cafés that dot the streets of the Downtown core. Lazy Tulip , Casa Cappuccino , Barrie Bean Counter , Unity Market , Bohemia , Local Foods Mart , The Radio Café located at the McLaren Art Centre – there're many to choose from and each offers its own unique vibe. Although you may choose to hang out and enjoy the ambiance that is offered by each, if the weather is pleasant, you may also opt to take your coffee to go and enjoying a nice stroll along the lake.
After your coffee and stroll, there're more Downtown options to enjoy together with Mom. Saturday mornings bring the Farmer's Market to Downtown Barrie from 8 until noon. Offering 'everything under the sun', it's a nice way to support local and purchase one of kind crafts, products, and local produce.
Another way to celebrate Mom and support local is to stop in and browse one of the great retail shops located downtown. Home accessories, women's fashion, specialty cheese and chocolates, spiritual and holistic supplies – downtown Barrie offers many different- and perhaps unexpected- things for you to explore. In addition to great stores, there are also many great salons and spas located downtown where you can take mom for some pampering and relaxation.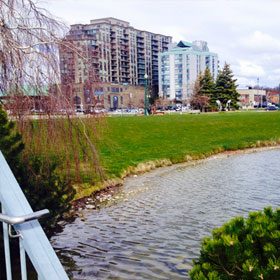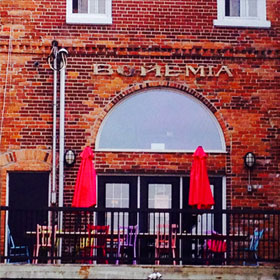 "After your coffee and stroll, there're more Downtown options to enjoy together with Mom."
After this, a nice lunch is likely in order. Again, there're many options depending on Mom's taste. For the health-conscious mama, there's
Ripe Juicery , offering delicious smoothies, salads, and acai bowls. Bohemia,
Boon Burger , The Local Foods Mart, and Lazy Tulip Café also offer many healthy and vegan options.
For something a little heartier, you may want to check out one of the great pubs and restaurants located downtown including The
Local Gastropub , Donaleigh's , McReillys , Hudson Craft House and Kenzington's and the newly opened
Bite and Go Bistro. Remember all those grilled cheese sandwiches your mom made you, painstakingly removing the crust? You can also finally repay the favour and treat her to a gourmet grilled cheese creation at the Grilled Cheese Social Eatery.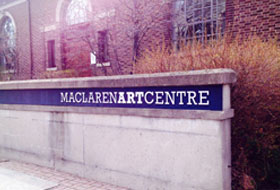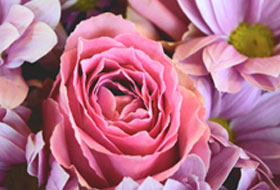 What to do after enjoying lunch? Enjoy a yoga class, catch a matinee or check out an exhibition at the MacLaren Art Centre . May at the MacLaren Art Centre features artist Valerie Palmer, "a Michipicoten Bay-based painter whose realist works situate her human subjects in the psychologically-charged landscapes and domestic environments of Northern Lake Superior." Again, you may be surprised by all the unexpected things that Downtown Barrie has to offer.
Cap off this exciting afternoon with a nice glass of wine at the eclectic, interesting and classy Canvas and Cabernet . Inspired by your visit to the MacLaren Art Centre, you may even be inspired to sign up for one of the art classes offered here. A beautiful day for a beautiful mom!
What's the best thing about your mom? Share your thoughts with us using the hashtag #DowntownBarrie #WeLoveMom