Posted to Featured Homepage Events, Latest Updates
FOR IMMEDIATE RELEASE
April 29, 2020 (Barrie, Ontario)
Downtown Barrie BIA's Lifeline E-Gift Card Program Helping Support Businesses
The Downtown Barrie Business Association (BIA) launched the Lifeline E-Gift Card Program earlier this month and the support for Downtown Barrie Businesses has been pouring in ever since!
The Lifeline program offers a new, safe and responsible way for the Barrie community to support and shop local. Shoppers simply head over to downtownbarrie.ca, click the Purchase E-Gift Card Here button and select the business they'd like to support during these unprecedented times in the dropdown menu.
Participating in the program comes at no cost to businesses and they will receive 100% of the funds from the E-Gift Card purchases. Last week, the Downtown Barrie BIA and Meridian Credit Union hosted a virtual cheque presentation with Tracey Baker from ZuZu Fashion Boutique and Michelle Huggins from the Lazy Tulip Cafe. The Downtown Barrie retailers received their first cheques from purchases made through the Lifeline E-Gift Card Program.
Check out @downtownbarrie to see a fun video of the virtual cheque handover!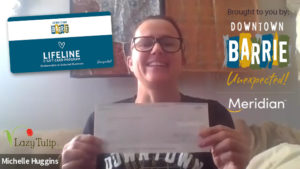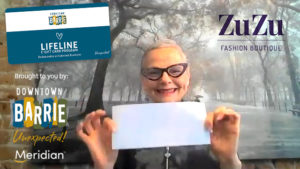 Michelle Huggins, owner of Lazy Tulip Cafe (left) and Tracey Baker, owner of ZuZu Fashion Boutique (right)
With Mother's Day less than two weeks away, consider purchasing a Lifeline E-Gift Card to her favourite downtown Barrie business as a gift!
This initiative could not have been possible without our amazing partners at Meridian Credit Union. We'd like to thank them for their continued support.
To help encourage everyone to #SupportLocal, please make use of our social media kit.
The health and well-being of our community is our number one priority and we encourage you to stay informed by regularly reviewing credible information on the Ontario government's dedicated COVID-19 webpage: www.ontario.ca/page/2019-novel-coronavirus#section-11.
Contact: Kelly McKenna, Executive Director
Downtown Barrie Business Association (BIA)
Email: [email protected]