In support of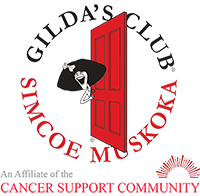 Event profile
Follow the #OctoberTastingTrail by purchasing your $10 passport at a participating eatery and taste your way through Downtown Barrie, enjoying free samples during select times on Saturdays throughout the month of October. Visit 10 or more participating locations and your passport will be entered into a draw for a $250+ prize package! This year's passport proceeds will be donated to Gilda's Club of Simcoe Muskoka
Stay tuned for a list of participating locations and times!
Thank you for all your contributions!
Chance to win a $250+ prize package & support the Gilda's Club Simcoe Muskoka
Supporting Details
Participants purchase a $10 tasting passport at any of the participating locations and follow the #OctoberTastingTrail to enjoy free samples on Saturdays during select times. The passport lists all participating restaurants and sampling hours. Visitors that make 10 or more stops on the #OctoberTastingTrail can submit their stamped passport at their final destination to be eligible for a chance to win a $250+ prize package of merchandise and gift certificates from participating downtown eateries. Proceeds support Gilda's Club of Simcoe Muskoka.
Dates & Times
Location Schedule
Make sure to check back regularly for updated information!
11:00 – 1:00pm: Flying Monkeys Craft Brewery (107 Dunlop Street East)
11:30 – 1:30pm: Ripe Juicery (118 Dunlop Street East)
12:00 – 2:00pm: Olive Oil Company (45 Dunlop Street East)
12:00 – 2:00pm: Nourish Cafe @ Nutrition Plus (42 Maple Avenue)
12:00 – 2:00pm: Unity Market Cafe (25 Toronto Street)
12:30 – 2:30pm: Little Bitty (49 Dunlop Street East)
1:00 – 3:00pm: Homestead Artisan Bakery (80 Dunlop Street East)
1:00 – 3:00pm: J'adore Fine Cheese & Chocolate (123 Dunlop Street East)
2:00 – 3:30pm: Grilled Cheese Social Eatery (53 Dunlop Street East)
2:00 – 3:30pm: Lazy Tulip Café (29 Maple Avenue)
3:00 – 5:00pm: Valiant's (112 Dunlop Street East)
3:00 – 5:00pm: Skewers Koren Style (9 Clapperton Street)