Posted to Member Events, Press Release
FOR IMMEDIATE RELEASE
Tuesday, July 2, 2019 (Barrie, Ontario)
Downtown Barrie's May Days Supports Alzheimer Society
Downtown Barrie's May Days brought shoppers downtown support our local businesses as well as the Alzheimer Society of Simcoe County.
All throughout the month of May, shoppers at participating downtown businesses entered their name into a draw to win a prize package valued at more than $2500. The prize package consisted of gift certificates and goodies provided by downtown Barrie businesses. The ballot for this year's lucky winner was submitted at Nutrition Plus Community Health Market and the winner was over the moon!
The Downtown Barrie Business Association (BIA) would like to thank all the participating businesses as well as all the downtown shoppers who worked together to raise $500 for the Alzheimer Society of Simcoe County.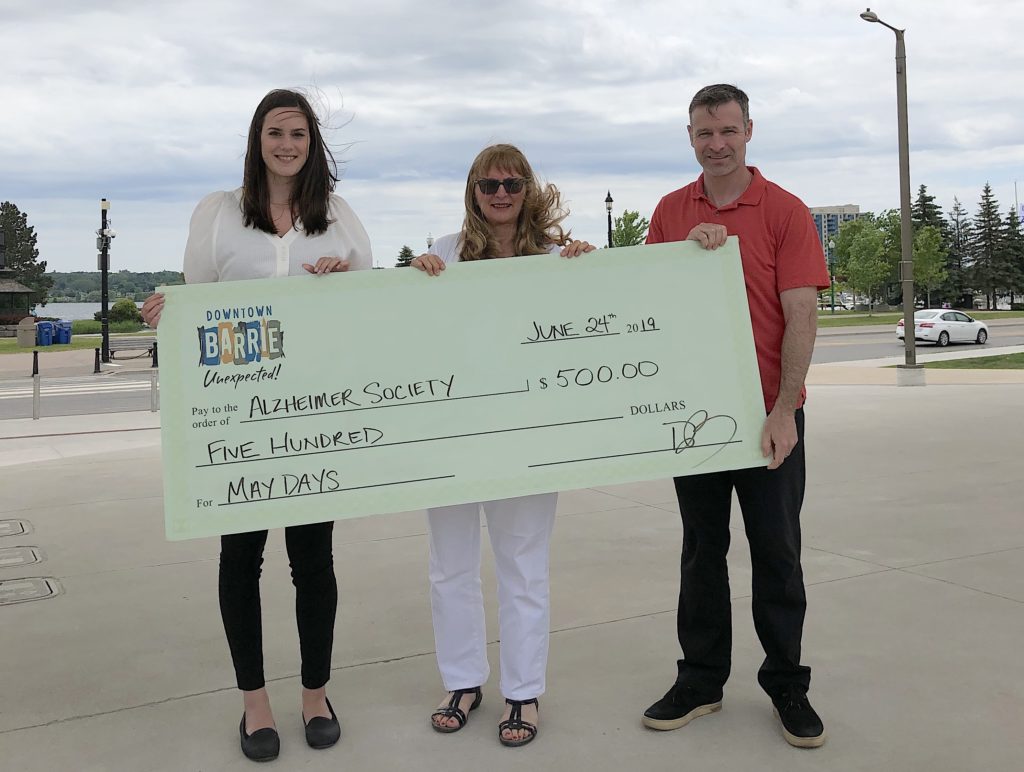 From left: Madeleine Dunne & Carol Dowell of the Alzheimer Society of Simcoe County and Craig Stevens of the Downtown Barrie Business Association (BIA)
For more info on May Days, visit downtownbarrie.ca/maydays
For more information on the Alzheimer Society of Simcoe County, visit alzheimer.ca/en/simcoecounty
For info on the Downtown Barrie Business Association (BIA), visit downtownbarrie.ca
Contact: Craig Stevens, Managing Director
Downtown Barrie Business Association (BIA)
Office: 705-734-1414 | Email: [email protected]