FOR IMMEDIATE RELEASE:
Barrie, Ontario
Downtown Barrie Business Association (BIA) Hot Cocoa Trail Event Contributes to Redwood Park Communities
The Downtown Barrie Business Association (BIA) once again staged it's annual Hot Cocoa Trail event with 12 cafes in the downtown core taking part. Each participant designed a gourmet hot chocolate for the event and proceeds raised through the sale of trail passports contributed $500 for this year's charity.
As part of the Downtown Barrie Business Association's 'Community Connects' program, all proceeds generated through the Hot Cocoa Trail event are utilized to support local charitable organizations. This year, proceeds will be donated to www.redwoodparkcommunities.com, a not-for-profit organization that provides safe, affordable, hopeful housing in the community, through partnerships with local agencies serving vulnerable people who require affordable housing options in Simcoe County, Ontario.
Next up in the 'Community Connects' program calendar is the month long event, MayDays, formerly Fresh Air Fridays. We are encouraging people to come downtown during the month of May to shop for a chance to win a bountiful prize package, as well as an opportunity to donate to Habitat For Humanity Huronia.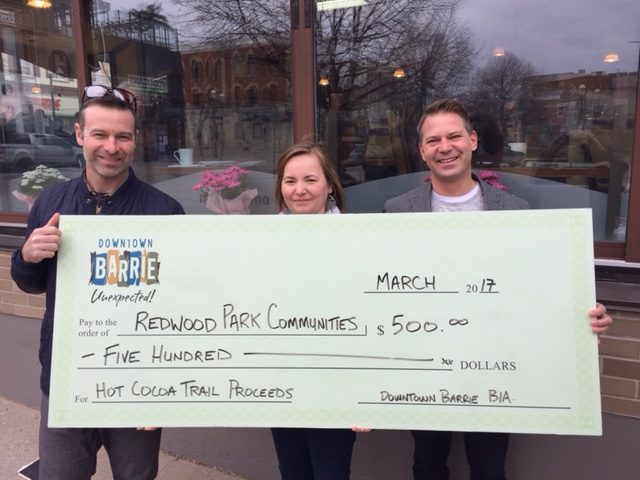 From left to right; Craig (BIA), Jennifer (Redwood Park Communities), Tom (BIA)
Contact: Downtown Barrie Business Association (BIA)
Craig Stevens, Managing Director
T: 705-734-1414