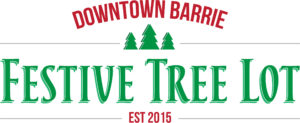 FOR IMMEDIATE RELEASE:
Barrie, Ontario
Downtown Barrie Business Association (BIA) Festive Tree Lot Gives Back to Hospice Simcoe
The Downtown Barrie Business Association once again brings a 'festive' touch to the downtown core with the Downtown Barrie Festive Tree Lot. Part of the Noella Festivities in Downtown Barrie, the Festive Tree Lot is centrally located at Memorial Square/Meridian Place and offers authentic holiday wreaths for $20 and Christmas trees available for $40. Included with the purchase of a Drysdale's Tree Farm Christmas tree is a gift coupon worth $40 – a thank you from the many great shops, cafés and restaurants located in downtown Barrie.
As part of the Downtown Barrie Business Association's 'Community Connects' program, all proceeds generated through Tree Lot sales are utilized to support local charitable organizations. This year, proceeds will be donated to Hospice Simcoe, a not-for-profit that provides meaningful support to those touched by a life-threatening illness.
The Festive Tree Lot will be open Friday, Dec 16th from 5 -9 pm, Saturday, Dec 17th from 12 pm to 6 pm and Sunday, Dec 18th from 12 pm to 4 pm. Don't miss this great opportunity to support local and get ready for the holiday season.
After the Festive Tree Lot 'wraps up' for the season, the New Year brings more 'Community Connects' events, providing a chance for residents of Barrie to give back, support local businesses and charities and explore the 'unexpected' that downtown Barrie has to offer. Stay tuned for more 'Community Connects' updates in 2017.
Contact: Downtown Barrie Business Association (BIA)
Craig Stevens, Managing Director
T: 705-734-1414