In support of

Event profile
#MayDays, formerly known as #FreshAirFridays, was developed in order to encourage people to get out and enjoy the beautiful weather spring brings. It is all about encouraging people to head downtown and support local, as well as supporting a local, community-based charitable organization.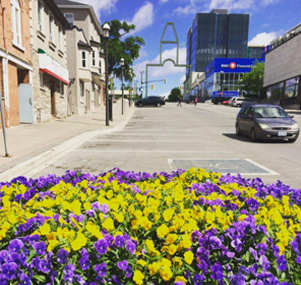 Win a locally sourced prize package and help your community!
Supporting Details
Every day during the month of May, shoppers are encouraged to head Downtown, shop and donate to the Habitat For Humanity Huronia. When customers make a purchase, they are then provided with one ballot for a chance to win a bountiful prize package comprised of gift certificates and products provided by Downtown businesses. For $5 the customer can then purchase three additional ballots for entry into the draw. The $5 for the additional ballots will be directly donated to the event charity.
Disclaimer:
Any 'Gift Certificate, 'Voucher' or 'Coupon' included as part of the 2017 May Days Prize Package can not be redeemed, or used, in conjunction with any in-store sale or other business promotion.
**Generously donated to Prize Package – No ballots available & unable to accept donations.
+ Must be over 19 years of age & present Photo ID to receive this prize package product.
Retail 
Bill LeBoeuf Jewellers (52 Dunlop Street West) – $100 Gift Certificate
Helen's Bridal of Barrie (22 Dunlop Street East) – $100 Product
John McNabb Clothier (15 Dunlop Street West) – Tommy Bahama T-Shirt ($50 Value)
Trek Bicycle Store Barrie (88 Dunlop Street East) – Free Bicycle Tune-up ($50 Value)
Gary Owen Custom Framing Gallery (118 Dunlop Street East) – $50 Gift Certificate
Metzger's Studio (46 Dunlop Street East) – $50 Gift Certificate
Keylta's Haute Couture (55 Dunlop Street West) – $50 Gift Card
Loved Again Bridal Boutique (30 Dunlop Street West) – $50 Gift Certificate
Bravo Fine Lingerie (84 Dunlop Street East) – Product ($45 Value)
ZuZu Fashion Boutique (25 Dunlop Street East) – $40 Gift Certificate
Flying Monkey Brewery (107 Dunlop Street East) – Gift Pack+ ($30 Value)
Everleigh Garden (104 Dunlop Street East) – Product ($30 Value)
The Edge Gallery (32 Dunlop Street West) – Product ($30 Value)
J'Adore Fine Cheese & Chocolate (111 Dunlop Street East) – Product ($30 Value)
Barrie Olive Oil Co. (51 Collier Street) – $25 Gift Certificate
The Sewing House  (35 Mary Street) – $25 Gift Certificate
Our House (55 Dunlop Street East) – $25 Gift Certificate
Sinfull Delight Boutique (3 Clapperton Street) – $25 Gift Certificate
Inhabit Interiors & Design (120 Dunlop Street East) – $25 Gift Certificate
The Huntingford @ The Market (41 Dunlop Street West) – Product ($25 Value)
Mantiques @ The Market (41 Dunlop Street West) – Product ($25 Value)
Dr. Teez Custom Printing (Bayfield Street) – Product ($25 Value)
The Other Place @ The Market (41 Dunlop Street West) – Product ($25 Value)
**Running Room Barrie (56 Dunlop Street East) – Gift bag ($25 Value)
**BJ's Records & Nostalgia (13 Clapperton Street) – $25 Gift Certificate
Angie's Outdoor (80 Dunlop Street East) – Product ($25 Value)
Le Petit Chapeau (Lakeshore Mews) – Product ($25 Value)
The Paperie by Katie Williams Design Co. (89 Dunlop Street East, Unit 201) – $25 Gift Certificate
Tropical North Surf Shop (42 Dunlop Street East) – $25 Gift Certificate
Janet Kemp Ladies Fashion (117 Dunlop Street East) – $25 Gift Certificate
Cary Grant Clothing (45 Dunlop Street West) – $25 Gift Certificate
May Court Club of Barrie (54B Maple Avenue) – $20 Gift Certificate
**The Camphill Store (111 Dunlop Street East) – Product ($20 Value)
Food & Drink
Made in Mexico Restaurants & Cantina (10 Dunlop Street East) – $50 Gift Certificate
Donaleigh's Irish Public House (28 Dunlop Street East) – $50 Gift Certificate
The Queens: Sports Restaurant (94 Dunlop Street East) – $50 Gift Certificate
Hooligans Barrie (66 Dunlop Street East) – $50 Gift Certificate
British Arms Pub (29 Dunlop Street East) – $40 Gift Certificate
Grilled Cheese Social Eatery (53 Dunlop Street East) – $30 Gift Certificate
Cakes by Design (80 Toronto Street) – $25 Gift Certificate
Ripe Juicery (118 Dunlop Street) – $25 Gift Certificate
Smoke's Poutinerie Barrie (24A Dunlop Street West) – $25 Gift Card
The Works Gourmet Burger Bistro (137 Dunlop Street East) – $25 Gift Certificate
Pizzeria Italia Restaurant (18 Mulcaster Street) – $25 Gift Certificate
Casa Cappuccino (91 Dunlop Street East) – $25 Gift Certificate
McReilly's Pub (82 Dunlop Street East) – $25 Gift Certificate
Bohemia (125 Dunlop Street East) – $25 Gift Certificate
AvōcoBar Barrie (43 Collier Street) – $25 Gift Certificate
Boon Burger Barrie (112 Dunlop Street East) – $25 Gift Card
Barrie Bean Counter (49 Dunlop Street East) – $25 Gift Certificate
TLC Bistro & Café (41 Maple Avenue) – $25 Gift Certificate
Il Buco Ristorante (31 Dunlop Street East) – Lunch for Two – excluding Alcohol ($25 Value)
Chavos Crepes (74 Dunlop Street East) – $25 Gift Certificate
Swirleez Frozen Yogurt (89 Dunlop St E #101) – $25 Gift Certificate
Canvas and Cabernet (72 Dunlop Street East) – $20 Gift Certificate
Homestead Artisan Bakery (43 Owen Street) – $20 Gift Certificate
Tiffins- Curry in a Hurry! (7 Dunlop Street East) – $20 Gift Certificate
Beauty
Rinaldi Salon & Spa (58 Collier Street) – One Hour Relaxation Massage ($75 value)
Samson's Salon (44 Dunlop Street East) – Wash, Cut and  blow-dry ($60 Value)
Brennen Demelo Studio North (114D Dunlop Street East) – $50 Gift Certificate
HeadQuarters Hair Salon (47 Dunlop Street East) – Mens Cut & Throat Shave ($35 Value)
Vintage Throne Barber Lounge (64 Dunlop Street West) – $25 Gift Certificate
Added Bonus
**Downtown Barrie Business Association (BIA) – 2016 Heritage Pewter Ornament Complete Collection ($200.00 Value)
Ann Green Yoga/Bliss Boutique (119 Dunlop Street East) – 1 Month Individual Membership ($100 Value)
**Maclaren Art Centre (37 Mulcaster Street) – Family Membership ($65 Value)
Wild Ink Studios Barrie (106 Dunlop Street East) – $50 Gift Certificate
Unique Ink Custom Tattooing & Piercing (13 Dunlop Street West) – $50 Gift Certificate
Flourish-Vitality Wellness Centre (11 Collier Street #302) – 1 Month Unlimited Yoga ($40 Value)
**Uptown Theatre (55 Dunlop Street West) – Family Four Pack ($40 Value)
Ian G. McIntosh Photography (11 Collier Street #302) – $30 Value
Art in House (Lakeshore Mews) – $30 Value