In support of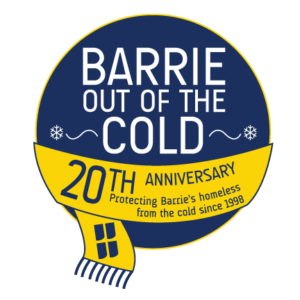 Event profile
Thank you to all who participated in the 2017 Hot Cocoa Trail!  Together we collected $700 for Barrie Out of the Cold.
Congratulations to Sarai Porretta, the winner of the '2018 Hot Cocoa Trail Prize Voucher'. 
We look forward to seeing what flavours are in store in 2018!
—
It's cold outside – why not warm up by following the hot cocoa trail in Downtown Barrie. Offering over 10 unique takes on the traditional winter favourite, the hot cocoa trail provides a fun winter activity, as well as an opportunity to do good and support a local charity.
Thank you for all your contributions!
Warm up with a delicious hot drink, a chance to win, and a warm fuzzy feeling!
Supporting Details
Follow the hot cocoa trail & collect signatures from over half of the participating Trail locations for the chance to win a #HotCocoaTrail Prize Voucher! Each Hot Cocoa is available in 12oz size for $4.30 tax included with $2 from every hot chocolate donated to Barrie Out of the Cold. Pick up your trail passport at participating locations. Barrie Out of the Cold provides safe, respectful and welcoming overnight accommodation and meals to the homeless from November to April.
Locations & Flavours
The Barrie Bean Counter (49 Dunlop St E) – Flavour:  Coconut Cream Pie Hot Cocoa
J'Adore Fine Cheese & Chocolate (123 Dunlop St E) – Saturdays Only – Flavour: The Neapolitan
Ripe Juicery (118 Dunlop St E) – Flavour: Raw Peppermint Hot Cocoa (dairy free & vegan)
TLC Bistro (41 Maple Ave) – Flavour: Old Fashion TLC
Homestead Artisan Bakery + Café (43 Owen St) – Saturdays Only – Flavour: S'mores Hot Chocolate
Bohemia (125 Dunlop St E) – Flavour: White Chocolate Birthday Cake Latte
Casa Cappuccino (91 Dunlop St E) – Flavour: White Mint Hot Cocoa
Canvas and Cabernet (72 Dunlop St E) – Flavour: Spicy Hot Cocoa
Chavos Crepes (74 Dunlop St. East) – Flavour: Salty Marshmallow Hot Chocolate
Swirleez Frozen Yogurt (89 Dunlop St E #101) – Flavour: Raspberry White Hot Chocolate
Renegade Health Bar (51 Collier St) – Saturdays Only – Flavour: Creamy Adaptogenic Ashwagandha Hot Chocolate
————-
BONUS–

Flying Monkey Craft Brewery & Tap Room (107 Dunlop St E) – Available daily, must be 19+, bottle purchase to take home  – Flavour: Heartbreak Breakfast Porter (Price: $6.95)
 Complete Passports must be returned to any of the 'Trail Locations' or to the Downtown Barrie (BIA) Office before Tuesday, February 28th, 2018 in order to be eligible for entry into the draw. 
Dates & Times
Feb 3 - 4
Feb 10 - 11
Feb 17 - 18
Feb 24 - 25