In support of

Event profile
It's cold outside – why not warm up by following the hot cocoa trail in Downtown Barrie. Offering 12 unique takes on the traditional winter favourite, the hot cocoa trail provides a fun winter activity, as well as an opportunity to do good and support a local charity.
Thank you for all your contributions!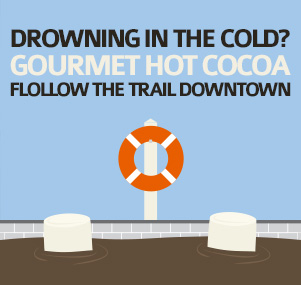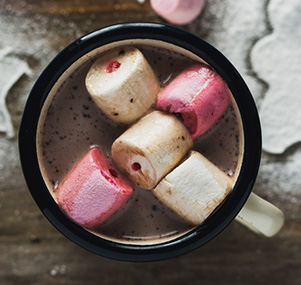 Warm up with a delicious hot drink, a chance to win, and a warm fuzzy feeling!
Supporting Details
Follow the hot cocoa trail and collect signatures from over half of the participating 'Trail locations' for the chance to win 'one of four' February #HotCocoaTrail Prize Vouchers! Trail Passports available for $5.00 at participating locations.
Trail Passports proceeds go to support the Redwood Park Communities. Redwood Park Communities provides safe, affordable, hopeful housing in community, through partnerships with local agencies serving vulnerable people who require affordable housing options in the Simcoe County.
Locations & Flavours
The Barrie Bean Counter (49 Dunlop St E) – Flavour:  Avalanche Hot Chocolate (White Chocolate, Peanut Butter, and marshmallows)
J'Adore Fine Cheese & Chocolate (123 Dunlop Street East) – Flavour: 'Oo la la' – Hot Chocolate on a Spoon
Ripe Juicery (118 Dunlop Street East) – Flavour: Raw Peppermint Hot Cocoa (dairy free & vegan)
Gallery Café at the MacLaren Art Centre (37 Mulcaster Street) – Flavour: Black Forest Hot Cocoa (Chocolate & Cherry flavour).
NOURISH Brew + Blend (42 Maple Avenue) – Saturdays Only – Flavour: Vegan Hot Chocolate topped with Coconut Cream.
TLC Bistro (41 Maple Avenue) – Flavour: Old Fashion TLC (Hot Cocoa served with Mini Marshmallows & Whip Cream)
Lazy Tulip Café (29 Maple Avenue) – Flavour: Mexican Spicy Mocha
Homestead Artisan Bakery + Café (43 Owen Street) – Flavour: Campfire Hot Chocolate (Homemade marshmallow with graham crackers & organic milk chocolate)
Bohemia (125 Dunlop Street East) – Flavour: Tonka Bean Cocoa with whipped tonka cream and a nutty little cookie
Casa Cappuccino (91 Dunlop Street East) – Flavour: 'Snowball' Hot Chocolate (Chocolate with Vanilla, Marshmallows & Graham Crackers)
Barrie Public Library Café (60 Worsley Street) – Flavour: 'Minter Wonderland' (Mint Hot Cocoa)
Canvas and Cabernet (72 Dunlop Street East) – Flavour: Spicy Hot Cocoa (Hot Chocolate with Chili Pepper)
 Complete Passports must be returned to any of the 'Trail Locations' or to the Downtown Barrie (BIA) Office before Tuesday February 28th, 2017 in order to be eligible for entry into the draw. 
Dates & Times
Feb 4th & 5th
Feb 11th & 12th
Feb 18th & 19th
Feb 25th & 26th